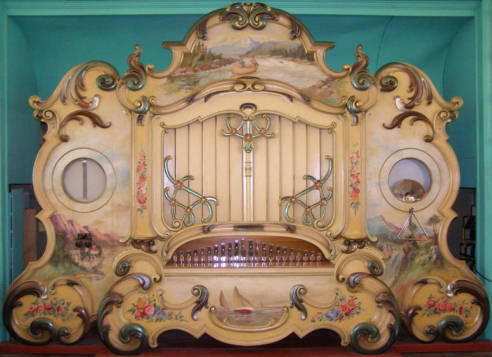 What is a carnival without
an organ
, right? The one in the photo is the Wurlitzer Military Band Organ Style 165. It reminds me of
Savin Rock Amusement Park
, where my parents used to take us on weekends. With the days getting longer and jubilees and Memorial Day just around the corner, though wind and cold temps are still here, the organ makes me feel like summer is just, about, here.
Want more smiles? Try these blog posts:
Education - can't live with it, can't live with it?
Taxman Blog
asks, regarding school levies,
"So, are you donating?"
And, on crime in Cincinnati, Taxman repots on what calls,
life in "progress" city.
Just Blowing Smoke contemplates a new retirement plan, "understanding, that Social Security is probably not in my future." Ouch! The second is on the ending of the Energy Crisis, at least according to what Congress is saying.
On one of Ohio's best examples of a public entity's online communication effort, the Seneca County Blog expresses its fears that there is trouble "right here in Findlay City." Then they do a good forehead slap with the title of their post, "This is just too stupid to believe but hey, this is Ohio." I would love to see more municipalities emulate that kind of frankness!

BizzyBlog poster Rose critiques the ABJ's Steve Hoffman's critique of John Kasich in, "Waiter! I'll Have What Steve Hoffman Is Having…" Then, Tom opines about Cincinnati's latest reason for voting with feet (as in, leaving). Last, Rose deals with another school levy for voters to consider.
On a variation of WhyOwhyOwhyO, did I ever leave Ohio, comes Spinelli on Assignment's Budget Battle leads to more OhiWoe. Oy - this kind of thing was never done to my old homestate of Connecticut!

John Michael Spinelli isn't the only one with transportation on his mind. Co-editor Daniel Jack Williamson of BuckeyeRINO shares his thought son trains, tubular and otherwise this week also.
Ben Keeler of the Keeler Political Report, reports that opponents to Mayor Plusquellic have enough signatures to force a recall vote. He's asking readers for predictions on how that effort will go.

On the stimulus front,
Ohio Republic
explains
why he believes it won't work
. And again, something I confess to not following closely but appreciate knowing about through my editing responsibilities at the Carnival:
State Sovereignty Resolution (SCR 13) was to be introduced in the Ohio Senate
and then
was, in fact, introduced
.
Go visit this post just for the graphic that appears with
History Mike's
post,
On License Plate Paint and Red Light Cameras
.
See see see? I'm not the only one who knows how to ask a long question: from co-editor of the Carnival, Lisa Renee at
Glass City Jungle
:
Should our area decide to join the rest of the state
and have our public transportation authority be funded by sales tax instead of property tax is a hot debate item as started here on? Personally, I would love to see Lisa Renee Rant & Rave! Here, she focuses on her belief that
public transportation is something that voters should decide
, not something that should be decided by a few for us.
A lesson in state government
from
Third Base Politics
is probably intended for the blog readers, but I bet we could each think of some current politician(s) who could benefit as well.
In regard to
a charter school uproar in Toledo, Ohio
,
Roland Hansen Commentary
asks, is it true that Archie Bunker is alive and well in Toledo's Old Orchard neighborhood?
And from yours truly,
a few writers reported
on how the GOP's numbers, in Ohio and nationally, for women in elected office are abysmal,
while a 32 year old single mother of three in Cincinnati, Anitra Brockman, is running
as an Independent for Cincinnati City Council.
Everyone have a glorious weekend and thank you as always for your contributions and participation.